Cloud Solutions

A Pioneer in Cloud Innovation
Using unique technology, Broadview is the only provider to crack the code and make unified communications easy for all employees to access and use from any device. By giving employees control over features, businesses quickly see a return on their investment of time and money.
Broadview achieved this by developing the only 100 percent cloud-based UC system that is not reliant on phones, servers, power or other devices to operate.
---

Technology helps businesses do great things. Mitel helps make it easy. Our communications solutions consistently outperform the competition on flexibility, customer satisfaction and total cost of ownership, enabling you to delight customers, improve productivity and turn your great ideas into "the next big thing."
Multiple solutions. One easy source. Mitel delivers business communications that fit your needs, whether that's a turnkey phone system, UC, SIP trunks, custom apps or more.
---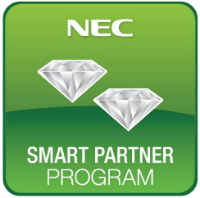 NEC's Unified Communications solutions unleash the productivity within organizations large and small. Access voice mail, e-mail and faxes from any device… anywhere. Locate a colleague and determine how best to contact them regardless of location.
With NEC's Unified Communications solutions, collaborating, conferencing and messaging all become more immediate and more flexible.
---

From hot dog buns to high tech billions, net2phone is one of the fastest growing business cloud communications providers in the US. We're a multi-billion dollar international corporation, but we've got a true entrepreneurial spirit. We have spent the last 20+ years listening to your feedback, investing in innovation, and thriving to help your business succeed.
We have taken all that inspiration and developed a smarter business communication platform with the idea that conversations will empower your growth. We are constantly evolving our product set and improving our tools to meet today's needs and prepare for tomorrow's demand. net2phone is not looking to follow, we are looking to innovate.
---

Analytical Minds Creative Solutions
Vocal IP Networx: Your Intelligent Phone and Data Partner
Founded in 2006, Vocal IP Networx is the only telephony and unified communications company that offers the benefits of a major industry provider with the attentiveness of a boutique agency. Every Vocal IP client is a VIP client. Our advantages include all of the following and more:
Superior "white glove services" including around the clock monitoring and management and on-site assistance.
Our company was built by engineers, not salesmen. The Vocal IP team are passionate, knowledgeable tech innovators.
Vocal has a 99% retention rate of clients. This shows just how far we go for our clients.
Tailored solutions with free quotes and assessments, even for non-clients.
---

The Vonage system is entirely cloud-based, allowing you to implement new software without additional infrastructure or costs. So as your business grows, our network seamlessly scales with you—without unexpected fees.
Nexmo, the Vonage API platform, redefines customer experiences. Innovative, real-time technology connects businesses with consumers faster than ever before, in the ways—and channels—they prefer. Embedded communications create contextually relevant interactions, delighting customers and improving business bottom lines.