Both UCaaS and CCaaS are transforming business communication through a cloud model, as well as integrating with cloud-based software applications.

10+ Years of Experience in the Enterprise
Rolling out a new communications solution in the enterprise isn't always easy. We can show you the way with our proven and validated implementation methodologies we've developed based on more than 10 years of experience deploying to enterprise companies. We focus on tailored deployment, adoption, success, and support services to ensure that your company is technically and organizationally ready for the migration to Fuze, helping you accelerate time to value.

Professional Voiceovers for Telephone & Multimedia
Holdcom is dedicated to helping businesses communicate with their customers through sound and sight. Founded in 1987, in the days when the telephone was the most effective business communication medium, Holdcom showed companies and organizations how to leverage this tool with innovative voiceover messaging to inform, engage, and influence their callers. Utilizing the power of the recorded human voice, Holdcom offered the best Message On Hold and Voice Prompt solutions production services available.
Over the years, as business communication has evolved, so has Holdcom, remaining on the cutting edge while staying true to our roots, bringing audio-visual solutions to telephony, the Internet, in-store messaging, video, and emerging digital mediums. We continue to offer the most effective marketing solutions for businesses, backed by the highest level of responsive customer service.

Seamless Communication and Collaboration
With 45 years of industry leadership, Mitel helps businesses connect, collaborate and provide better experiences for their customers. Mitel is trusted by 70 million business users in more than 100 countries.
Technology helps businesses do great things. Mitel helps make it easy. Our communications solutions consistently outperform the competition on flexibility, customer satisfaction and total cost of ownership, enabling you to delight customers, improve productivity and turn your great ideas into "the next big thing."
Multiple solutions. One easy source. Mitel delivers business communications that fit your needs, whether that's a turnkey phone system, UC, SIP trunks, custom apps or more.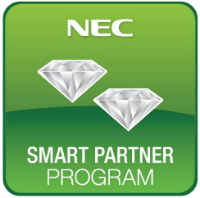 Orchestrating a Brighter World
As an Information and Communications Technology (ICT) leader in operation for 120 years, NEC is committed to bringing together and integrating its technology and expertise to create the ICT-enabled society of tomorrow. NEC is enabling new approaches in how Communications and IT services are delivered and managed so organizations can operate more safely and efficiently including delivering more engaging customer experiences.
NEC's Unified Communications solutions unleash the productivity within organizations large and small. Access voice mail, e-mail and faxes from any device… anywhere. Locate a colleague and determine how best to contact them regardless of location.
With NEC's Unified Communications solutions, collaborating, conferencing and messaging all become more immediate and more flexible.

Go Pro with net2phone for Small Business
From hot dog buns to high tech billions, net2phone is one of the fastest growing business cloud communications providers in the US. They're a multi-billion dollar international corporation, but they've got a true entrepreneurial spirit. They have spent the last 20+ years listening to feedback, investing in innovation, and thriving to help businesses succeed.
They have taken all that inspiration and developed a smarter business communication platform with the idea that conversations will empower your growth. They are constantly evolving their product set and improving their tools to meet today's needs and prepare for tomorrow's demand.

You Deserve the Best
Nextiva is more than just a cloud-based phone service provider. Dedicated to helping you run your business efficiently and profitably – from anywhere, anytime, their team is passionate about delivering your business with exceptional service.
Nextiva was built on the idea that all businesses deserve better. They're building the future of how business and technology work together. One platform, one workspace, zero friction.

An Easy, Affordable, and Reliable All-in-One Phone System
When your business communications are bundled, you don't have to try and make separate products work together and you're not paying several vendors for a series of different services. Their easy-to-use cloud-based solution is much less expensive to operate than typical on-premises phone systems, and they pass the savings onto you.

Combining Enterprise Performance With Consumer Simplicity
Customers expect more from contact centers today. Keeping pace requires experienced innovation. Talkdesk is a new kind of cloud contact center that allows you to easily adapt to the evolving needs of your customers, resulting in increased productivity, higher cost savings, and better customer experience.
Be more productive with a sophisticated contact center that's also easy to use. Talkdesk is loaded with advanced features that are strikingly simple and save time.

The Nation's Premier Managed Services Provider
TPx is the nation's premier Managed Services Provider, delivering unified communications, managed IT and network connectivity to 55,000 customer locations across the country. Nearly two decades of proven, industry leading customer service focus embedded deep in their corporate DNA has powered more than 15 years of uninterrupted growth for TPx – all driven by earned referral, not advertising.
TPx evolved as technologies and marketplaces began to change so that they could always be there for their customers, able to put together the comprehensive solutions they needed, with guaranteed performance, so that they could compete, grow and focus on managing their businesses, confident that TPx was there for them.

Get the Right Solutions to Multiply Your Business Outcomes
Vocal IP delivers solutions to businesses and organizations of all sizes to help them overcome challenges, reach bold goals and grow.
Founded in 2006, Vocal IP Networx is the only telephony and unified communications company that offers the benefits of a major industry provider with the attentiveness of a boutique agency. Every Vocal IP client is a VIP client. Our advantages include all of the following and more:
Superior "white glove services" including around the clock monitoring and management and on-site assistance.
The company was built by engineers, not salesmen. The Vocal IP team are passionate, knowledgeable tech innovators.
Vocal IP has a 99% retention rate of clients. This shows just how far they go for their clients.
Tailored solutions with free quotes and assessments, even for non-clients.

Changing the Business Communications Landscape
The Vonage system is entirely cloud-based, allowing you to implement new software without additional infrastructure or costs. So as your business grows, their network seamlessly scales with you—without unexpected fees.
Nexmo, the Vonage API platform, redefines customer experiences. Innovative, real-time technology connects businesses with consumers faster than ever before, in the ways—and channels—they prefer. Embedded communications create contextually relevant interactions, delighting customers and improving business bottom lines.

Hosted VoIP Business Phone Service and More…
A one platform solution equips your employees with the exact tools they need to communicate, collaborate, access data, and contact experts at the speed of business.
8x8 cloud solutions help businesses transform their customer and employee experience. With one system of engagement for voice, video, collaboration and contact center and one system of intelligence on one technology platform, businesses can now communicate faster and smarter to exceed the speed of customer expectations.