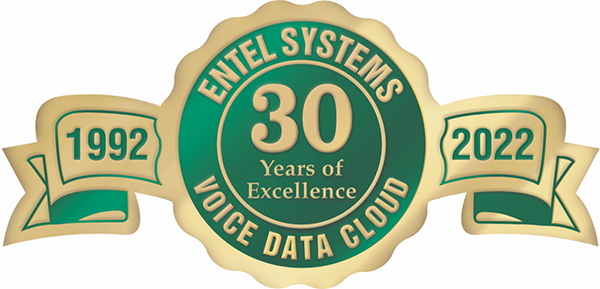 Celebrating 30 Years with Special Promotions
30 years serving customers is a pretty big deal for any business. However, we know this milestone would not be possible without our customers, both new and old. As a special "Thank You", we're offering the following complimentary services to celebrate this milestone.
Telephony Services
FREE Pricing Analysis of Your Current Carrier Bills
Entel has partnerships with every major US telephone service provider. We can review your present carrier bills and give you a comprehensive list of available carriers who can offer you better rates for equivalent, or better service than you are receiving now!
FREE Upgrade Comparison
Are you curious about what new technologies have emerged since you installed your present phone system? technologies available. Would you like to know more about how cloud-based telephony compares to traditional premise-based PBX systems? We can provide you with a no-obligation comparison of your existing system to the newer
This comparison will show you:
A summary of the most relevant features and options for your specific business and industry
A price comparison between both types of systems and the various providers
Network Services
FREE Network Speed & Utilization Test
Are you getting what you pay for? Today's businesses rely heavily on the speed and quality of their internet connection. We are offering a free test to determine if you're getting the speed that your provider is promising, and if you're suffering from any data loss during transmission.
FREE Network Analysis
Our network assessment is a detailed report analysis of your company's existing IT infrastructure, management, security, processes, and performance. The purpose of this assessment is to identify opportunities for improvement, and help "future-proof" your entire network environment.
Security Services
FREE Dark Web Search for Your Company Domain
Performing regular dark web searches is recommended to detect signs that your company domain has been exposed. While the extent of the exposure can vary from case to case, user and administrative passwords can be made available for purchase by cybercriminals if the exposure is deep enough. Entel is pleased to offer a free dark web search of your domain, so you can see if any additional action should be taken.
FREE Breach Report
Unlike the dark web exposure, a data breach comes as a result of a cyberattack or phishing e-mail, allowing scammers to gain direct access to a computer network and the personal, financial or confidential data contained within. Our breach report will tell you if, and how many of these exploitable "holes" exist in your network security.
Infrastructure Services
FREE Cable Infrastructure Site Analysis
One of your company's largest investments is IT, and its supporting infrastructure. An often overlooked element of that infrastructure is cabling, and the supporting cable management system. Selecting the right cabling system can have a direct impact on your day-to-day operations and network performance. We offer an on-site analysis that is vital to any business that may be looking to invest in newer technologies.
Merchant Services
FREE Credit Card Processing Fee Analysis
Did you know that the fees charged by banks and processing companies to run credit cards are unregulated? We can analyze your present processing charges and potentially put hundreds of dollars per month back into your business, where it belongs. Not only is this analysis complimentary, but if you choose to move ahead with the program:
You do not need to change banks
You do not need to change processing companies
You do not need to change equipment
There is NO out-of-pocket cost for the service!
Please contact us if you'd like to discuss or schedule a time for any of these services!
Send Us a Message Call (888) 914-7100